As per as the Income Tax Department investigation, a CBDT declaration claimed that there were few Chinese citizens and their Indian collaborators engaged in money trafficking and hawala dealings through a variety of shell companies in the premises of Chinese firms.
India's Tax Department conducted probing Chinese participation in money laundering in 21 locations which in Delhi, Ghaziabad, and Gurugram. The income tax department reported that the inquiries were conducted on the basis of credible insights. Such individuals, their near associates and even bank staff were also involved in this endeavor, allegedly helping them to wash capital.
The Central Board of Direct Taxes (CBDT), in a statement, said, "Based on the credible information that few Chinese individuals and their Indian associates were involved in money laundering and hawala transactions through series of shell entities, a search action was mounted at various premises of these Chinese entities, their close confederates and couple of bank employees."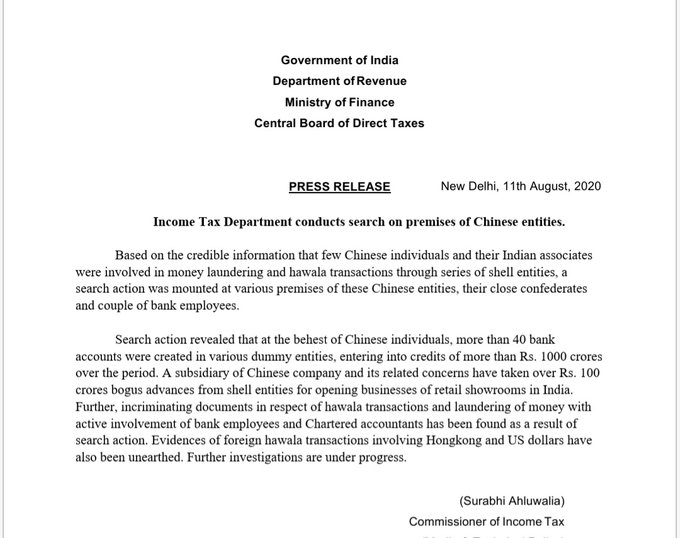 "About 40 bank accounts were created in the name of dummy entities run by these Chinese firms that transacted thousands of crores of rupees," the income-tax department stated.
The inquiry has shown that a Chinese subsidiary and its associated firm has taken over Rs 100 crore as a result of fraudulent shell transactions for the launching of retail showrooms in India.
With active intervention from bank staffs and chartered accountants during the investigations, the fiscal officers found incriminating records about hawala. In addition, the Central Board of Direct Taxes (CBDT) said in a release that the data of hawala including Hong Kong and US dollars was also exposed.
The Committee is raising suspection around many people and is now blocking a number of bank accounts directly linked to the victims, which have been established and operated by other suspect firms, according to the reports.
The department has detaining a Chinese man aged over 42 years, who was named as Charlie Peng and who is reportedly the prime suspect of the racket.
Charlie is reported to have kept a fake Indian passport and officials have claimed in the last two or three years that he has been creating a network of fraudulent companies in order to wash hawala money to and from China.
He said that the import and export of medical and electronic goods and some other things were his front or showcase business.
Leaks claimed that in September 2018, Charlie was detained on charges of theft and forgery by the Delhi Police Special Cell, and reportedly was operating an illicit money changer.
Peng, after marrying a woman from Manipur, is claimed to have made a false Indian passport from there. He was using 8-10 bank accounts and portrayed fake Chinese corporations in a Rs 300 cr hawala company.
Just as India has increased its oversight of Chinese investment and banned 59 Chinese applications after the 15 June Galwan Valley attack. The event also led India to the loss of 20 Indian troops while China sustained casualties.